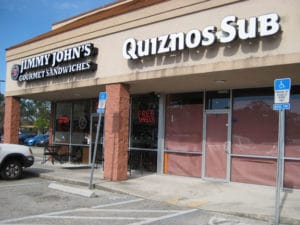 My family and I had dinner this past weekend at the newest location of a locally-based fast casual restaurant chain.  It had a line nearly out the door and every table was full.  After dinner we noticed that, in the same shopping center, was an existing restaurant serving the exact same type of food.  It was nearly empty.  And I have to figure it will not long survive.
Competition can be brutal in the restaurant business, of course.  And no one can — or should — expect to be protected from competition entirely.  Competition is, after all, necessary.  And it is even desirable in many ways.  It drives innovation and fosters outstanding customer service.  If you can't stand competition, go find another business to get involved in.
But should restaurant owners be able to expect their landlords to give them some protection?  Or at least not undermine them directly by bringing a competitor into their same shopping center?  The answer is: not necessarily.
I wrote a while back about the need to seek exclusivity provisions when negotiating restaurant leases, and for those provisions to have teeth.  Your landlord is not your partner, and not your protector.  The only way your landlord will keep your competitors out of your shopping center is if it is financially harmful for them to do so.  And those provisions have to be included and negotiated at the time the lease is being signed.
I don't know what this smaller, older restaurant's lease said about exclusivity – or if it said anything at all.  But I do know that if it did say anything, it was not strong enough for this landlord to hesitate in bringing in a shiny, new, well-financed competitor.  And because of that, the smaller competitor is probably going to go out of business.