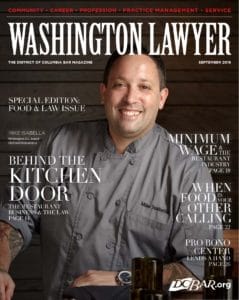 Demonstrating the critical importance and growing complexity of the legal issues surrounding restaurants, the Washington Lawyer dedicated its September 2016 issue to the intersection of the restaurant business and the law.  The cover story was entitled Behind the Kitchen Door and featured interviews with local restaurateurs, including celebrity chef Mike Isabella, and our founder, Sean Morris.
Among the things Sean was asked about was what the first thing an aspiring restaurateur should do when considering opening a restaurant:
Sean Morris, founder of the Morris Law Firm, LLC, in Bethesda, Maryland, and an expert in restaurant law, urges aspiring restaurant entrepreneurs to talk to a real estate broker and a lawyer.  'Those two people can enable you to survey the legal landscape and the actual physical landscape of what the local real estate market is,' Morris says.
Sean was also asked about upcoming changes to DC's zoning laws as they relate to fast casual restaurants, liquor licensing issues, and the pitfalls of using social media to boost your restaurant's profile.  The magazine also picked up on Sean's advice to shore up the four most important legal relationships that you will encounter in your restaurant business and reprinted our blog post of the topic on the DC Bar's website.
Finally, we were very proud to have Sean featured in the magazine's Member Spotlight for September, which not only included a full page profile, but provided Sean with the opportunity to tell the story of why he was drawn to a practice in restaurant law:
Through college, through graduate school, throughout my pre-law school days, I always worked in restaurants. I washed dishes. I bussed tables. I waited tables. I've worked in kitchens. … I came back to this industry because I knew it and because I loved it. It's an industry where there are a lot of good people working really hard who could use just a little bit of help, particularly from someone who knows their business.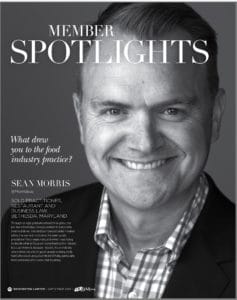 If you are interested, you can check out the full digital edition of the issue here.