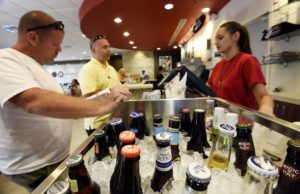 We wrote here last year about a glitch in Montgomery County liquor licensing laws that limited individuals to holding one beer & wine license in the county, whereas an individual could hold up to ten beer, wine & liquor licenses.  This, of course, made little sense and caused any restaurant with more than one location in the county to incur the additional cost and bear the additional regulatory burdens of a full liquor license, even if the restaurant just wanted to serve beer and wine.
The glitch in the law has been particularly frustrating to fast casual operators, who are likely to have several locations — and increasingly are moving to serve beer and wine
— but also do not generally need a full liquor license.
I am happy to report, however, that today Governor Hogan will sign into law a bill that will raise the number of beer & wine licenses an individual can hold to ten as well.  This new law, which will go into effect on July 1, will not only save many restaurants already operating in the county thousands of dollars a year, it will also make the county more attractive as a place for restaurant chains to grow and prosper.  (Note:  Anne Arundel County law is set to change as well, increasing the number of beer & wine licenses allowable for one individual from 2 to 5).
And how did this all come about?  As it happened, around the same time I wrote the post referenced above, I had the occasion to discuss this matter with senior licensing staff at the Montgomery County Department of Liquor Control, and explained that this was a frustration to many of my restaurant clients with multiple locations, and that it was likely a deterrent to smaller restaurants, particularly fast casuals, opening new locations in Montgomery County.  It was not any formal advocating for a change to the law; it was just an expression of frustration about the state of the law and the burdens it placed on my clients.
To the DLC leadership's credit, however, within weeks I was told that the matter would be brought up with the county's delegation to the Maryland General Assembly, and later last fall, was advised a bill was being prepared for presentation in the Assembly during the 2017 session.  The bill passed both houses unanimously and, as mentioned, is set to be signed today.  So, while I would like to take some credit for raising this issue in the first place, I commend DLC staff — notably the amazing Kathie Durbin — for being so responsive to the needs of our small restaurant owners here in Montgomery County.  This was good government at work, and we will all — businesses and consumers alike — benefit from it.