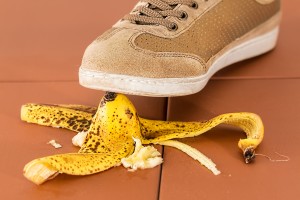 Let's get one thing out of the way:  when you are starting a business you are going to make mistakes — a million of them.  That's okay.  It's how we learn and grow, and it also keeps things interesting.  But what's not okay is when we make mistakes that are easily avoidable, and which can have serious repercussions for the future of our businesses, whether they succeed, and what happens to us if they don't.
These are three such mistakes (I hope you'll avoid them all):
1.    Delay in setting up your LLC or Corporation
No matter what anyone tells you, establishing a corporate entity for your business is not difficult, and should not be expensive. But it is one of the most important things you can do to protect yourself from personal liability for the debts and obligations of the business. If you delay in setting up your LLC or corporation and sign (even a few) contracts in your individual capacity, you can be exposing your personal assets, and those of your family, to risk in the event any of those contracts goes bad. The same would be true if you engage in a business where someone could be hurt while visiting your business or while working for you. If any of those losses occurs before you've property established your entity, you are probably going to be on the hook personally. It is therefore imperative that you set up your entity – and know how to use it properly — such that any person harmed (either physically or economically) by your business can only sue the business, not you personally
2.    DIY Your Lease Negotiation
I see this way too often in my practice, especially my restaurant practice: someone signs a lease without having it reviewed by an attorney, trying to avoid another upfront expense. I get it. You're spending a ton to get your business off the ground and this seems like one you can avoid. After all, the lease is pretty standard, right? Wrong. Most often, the lease was prepared by the landlord's lawyer and has many clauses in it that skew strongly to the landlord's benefit. Why wouldn't it, after all? If you were preparing the lease, wouldn't you do the same thing? Here's the thing, though: many of these terms are negotiable, especially for a landlord looking to make a deal. For the worst provisions, I will simply request that they be removed entirely. But if you try to do this yourself, will you know where those bad terms are? Will you know how hard you can push back? Doing it yourself may cost you your best (and last) opportunity to ensure the lease is as fair as possible, and that you have the best chance to succeed in your business.
In many cases, your lease will commit you to pay hundreds of thousands of dollars over the next 5, 10, or 15 years. Your lease has the power to make or break you, especially in the restaurant business, and a bad lease can doom even the best operators. That is why going it alone on your lease is one of the most penny-wise and pound-foolish things you can do. You owe it to yourself to do all you can to ensure you understand what you are signing, and that you have achieved the best terms possible.
3.    Don't Put Your Operational Agreements in Writing 
            When you start a business with other people, there are only two possibilities: that you see everything exactly the same way as to how to manage the business, or that you don't. Very often, however, people think they are in the first category, but they are really in the second. The best way to find out is to put everything down in writing. There is really no excuse. And, as I often tell my clients, if you don't. the worst thing that can happen to you may be that the business is successful. Then there will actually be something to fight about. Don't put yourself in that situation. Put it all in writing (and make sure you understand it all before you sign).