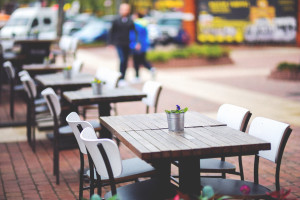 I've cooked, washed dishes, bussed tables, tended bar, and everything in between. I love restaurants because I know restaurants."

– Sean Morris, Founder of The Morris Law Firm, LLC
Starting and running a business in the restaurant or bar industry requires navigating a minefield of potential legal pitfalls, clearing a multitude of licensing hurdles, and staying abreast of an ever changing regulatory landscape.  Then there is the critical issue of your restaurant lease and your relationship with your landlord.  For all these matters, it is critical to have an experienced lawyer in your corner.
Here at the Morris Law Firm, restaurant law is the core of our practice.  While we work with many other types of businesses, there is no one who knows restaurants like we do.  We would love to put our expertise in this industry to work for you.
We offer a holistic, vertically-integrated suite of services to get your restaurant's doors open and to give it the best possible chance of success.   From your LLC to your lease to your liquor license, we have you covered.  (And if you are faced with that dreaded "fourth L" — litigation — we can help there too).
Among the legal services that the Morris Law Firm provides to our restaurant clients are:
Trademarks and intellectual property matters
We have provided these services for many well-known restaurants in the Washington, DC, area and would welcome the chance to work with you.  If this is your first restaurant, we are proud to offer a special Restaurant Startup Package that will cover a broad array of your legal needs, from getting your business entity set up, right through to the issuance of your liquor license, all for a significantly discounted flat fee.  If you don't know where to start, and this sounds like exactly what you need, give us a call so we can discuss the details.
Regardless, if you are contemplating a business in the bar or restaurant industry, or if you are an established business who just wants a lawyer who is as focused on this industry as you are, please consider making the Morris Law Firm part of your team.