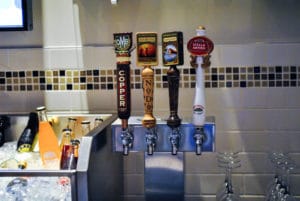 I've written here before about how one of the distinguishing and appealing elements of fast casual restaurants is that, unlike more traditional "fast food" outlets, they often serve alcohol. Most often, however, these restaurants do not have a full bar and only want to serve beer and wine. That more limited offering can make things easier for the restaurant owner because they can simply obtain a beer and wine license, and not have to bear the heightened scrutiny and oftentimes greater regulatory burdens that come with the right to sell hard liquor.
Here in Montgomery County Maryland, where I do a significant amount of work, it doesn't quite work that way due to a glitch in the local liquor laws. That glitch is this: an individual can hold up to ten full liquor licenses – i.e. those for beer, wine, and liquor – but are restricted to only one beer and wine license. Of course, very often fast casual restaurants have more than one location in a given jurisdiction, and several of my clients have more than one here in Montgomery County. If they want liquor licenses for all of their stores, the law requires them to apply for and obtain full liquor licenses, even if they only want to sell beer and wine. And while that full liquor license gives those restaurants the option to sell drinks containing spirits if they'd like, it also comes with it a much higher licensing fee and more burdensome administrative and regulatory requirements.  While many proceed anyway, and take these burdens on, others decide it is not worth it, and forego alcohol altogether.
Why this inconsistency in the law exists is difficult to say, but it appears it may simply have been an oversight as the laws were amended over the years. Indeed, for years full liquor licenses were by far the most desirable to restaurant owners and very few were interested in selling only beer and wine. Thus, when lobbying efforts were made to expand the number of licenses an individual could hold, the focus was on full beer, wine, and liquor licenses, and no changes were made to the laws regarding the more limited beer and wine licenses. As fast casual continues to boom, however, it would seem that greater attention needs to be given to this inconsistency, and that the right to hold beer and wine licenses be expanded in the next legislative session to meet the demands of this growing trend in the restaurant industry.